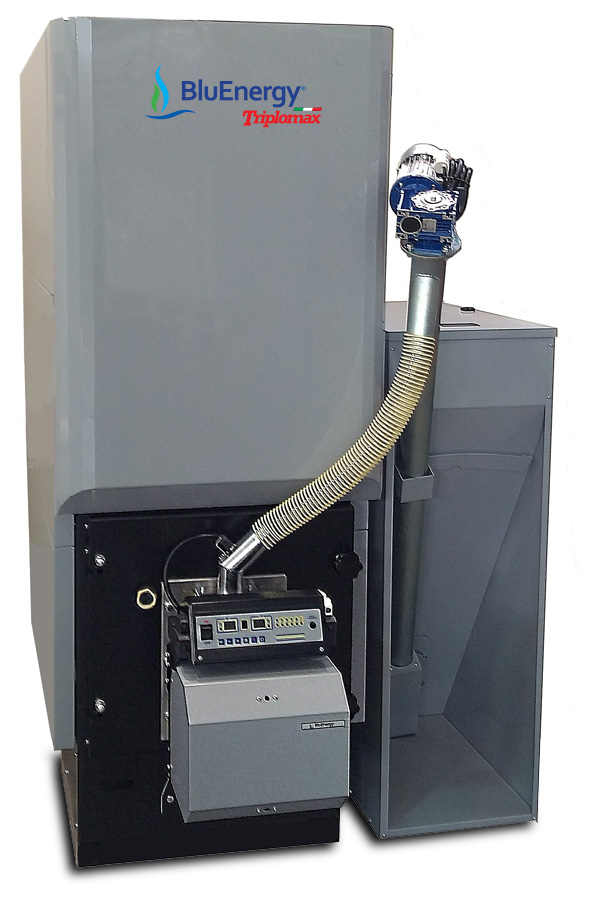 The pellet boiler series Bluenergy Triplomax It is designed for plants big dimensions that it requires reliability and total automation.
Ideal for apartment buildings, greenhouses, sheds, companies, factories, resorts, gyms, airports and district heating networks.
Of fundamental importance and the possibility of assemblarla in loco in such a way to make it accessible to any environment, underground heating plants become so accessible without additional costs of demolition and rebuilding of the perimeter walls.
Thanks to the modulating system and the total shutdown the pellet boiler Triplomax It works only when needed and adapts to the heat demand by reducing the cost and eliminating the fuel wastage.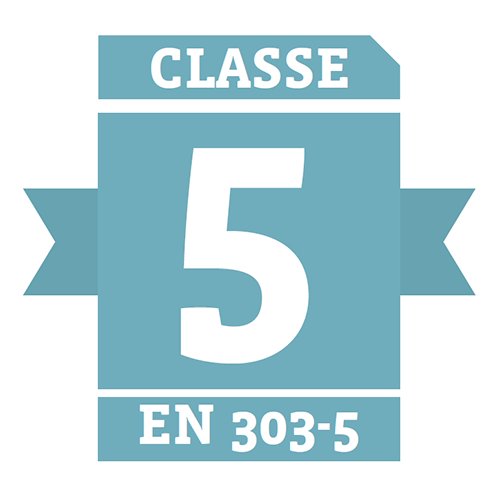 Certified * UNI EN 303-5 class 5
Incentives from the state with tax deductions and capital grants
Thermal Account – Capital contribution
Tax deduction of 65% – Redevelopment energy
Tax deduction of 50% – Restructuring
5 YEAR WARRANTY ON THE BOILER BODY!
* Being certified
Industrial boilers and pellet Agripellet
Convenient, Compact and High Power
100 – 200 – 350 – 600 – 800 – 1000 kW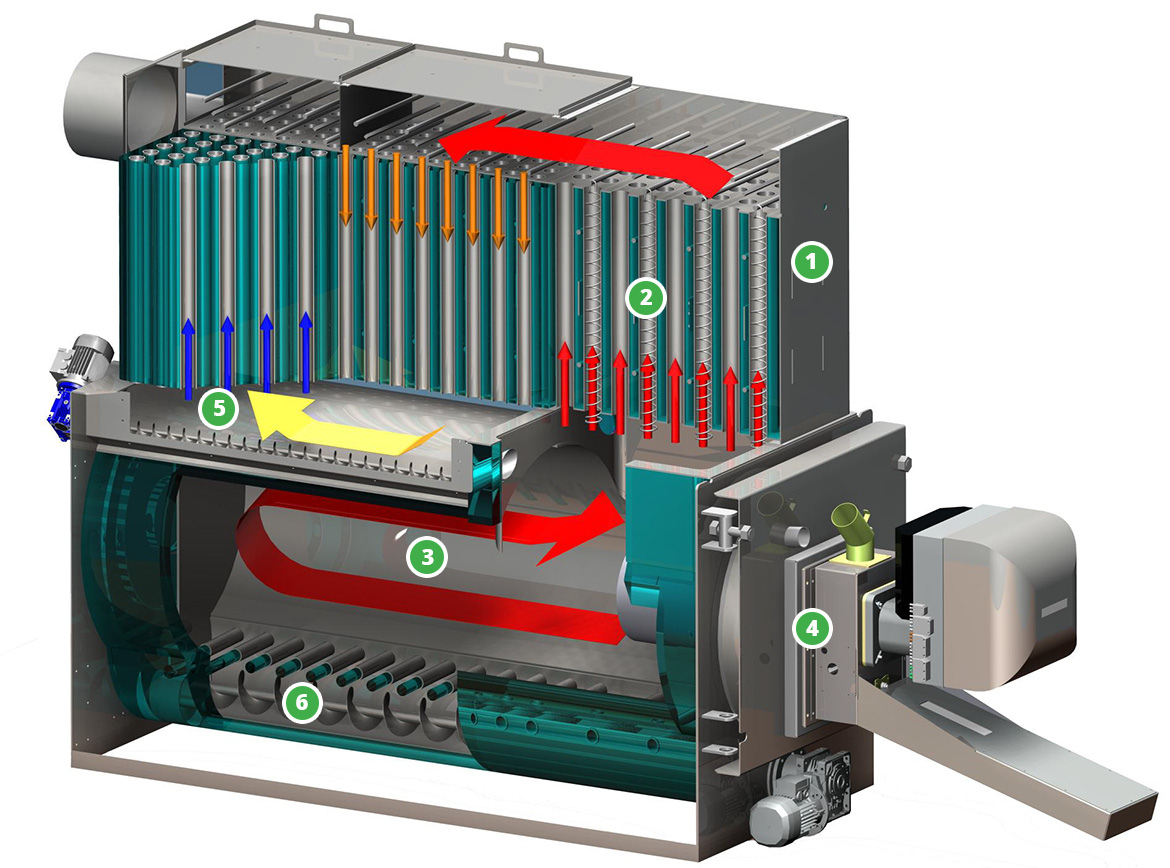 1

VERTICAL EXCHANGE

The particular tube bundle type vertical, a double inversion of the flue gas flow, it gives the series Triplomax multiple advantages. The flue gases coming from the combustion chamber run through the smoke tubes in a anticipated ups and downs until the smoke box, ensuring a high residence time of the hot gases in the heat exchanger and an effective sedimentation of fine ash and read.
2

The turbulators

The smoke tubes are all fitted with baffles, they generate a turbulence in the flue gas flow to reach high levels of transmission heat and insure maximum yields. The turbulators are hooked to an automatic mechanism that allows the handling, which makes it possible to clean the flue gas ducts in an efficient and effective manner.
3

BURNING ROOM

The reverse flame combustion chamber is made of steel in wet walls which guarantees a high mechanical resistance, prevents corrosion for a long duration in time.
4

AUTOMATIC CLEANING

The cleaning of the boiler electronically managed and does not require special maintenance, this makes it possible to always maintain the efficient combustion of the boiler and reliable ignition.
The combustion system is fitted with compressed air and mechanical cleaning (Agripellet version), the cleaning of the exchanger takes place by means of the fully automatic handling of turbulators.
5

EXTRACTION OF ASH SMOKE

The ash produced by the combustion is automatically discharged by means of augers positioned in the smoke box under the heat exchanger, into the combustion chamber.
6

REMOVING THE ASHES

La cenere prodotta dalla combustione viene estratta automaticamente dalla coclea di estrazione principale posta sul fondo della camera di combustione. L'estrazione della cenere può essere effettuata dal lato posteriore o anteriore della caldaia a seconda delle esigenze di spazio del locale di installazione. La cenere estratta viene convogliata in un contenitore dotato di ruote per un'agevole rimozione periodica.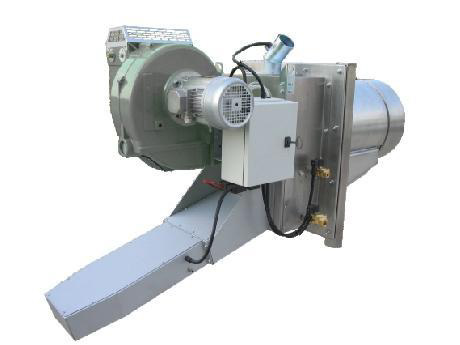 AGRIPELLET
Biomasse di origine vegetale pellettizzate che presentano caratteristiche di elevati contenuti di cenere, presenza di basso fondenti (sostanze residui di combustione che solidificano e si agglomerano a basse temperature) e/o la presenza di alto bollenti (sostanze che evaporano durante la combustione). Il nostro sistema di combustione è in grado di espellere in continuo i basso fondenti senza interferire con la combustione. In funzione della concentrazione di ceneri di questi combustibili può essere necessario l'impiego di un sistema di filtrazione.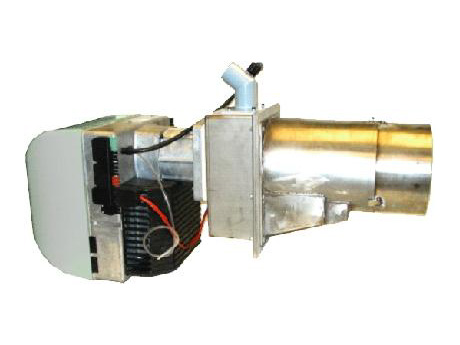 BURNING
The Bluenergy burner develops a horizontal flame. All parts are made of stainless steel for high temperature. The burner fluid dynamics enables a homogeneous fuel-comburent mixing with yields over 92% and low emissions of CO2 into the environment.
The ignition system and total shutdown is completely automatic and reliable. The ignition time varies from 2 to 5 minutes depending on the model.
Power on / Modulation / Off
The pellet boiler and agripellet Triplomax is able to ignite the flame in 90/120 seconds.
The operation is modulating, reducing the power to achieve the desired temperature, adapting to the heat required to then go into total shutdown.
L 'ignition and total shutdown are completely automatic and reliable.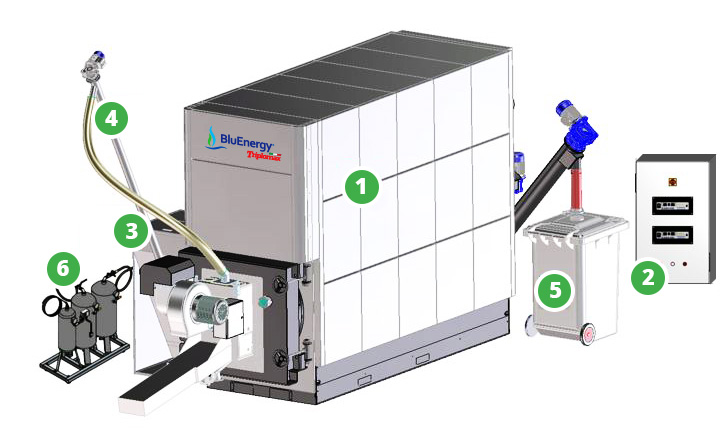 Triplomax Components
Boiler body and turbulators
Electrical panel with PLC logic
Pellet tank from 160 to 600Kg
Auger loading pellets or agripellet
Ash container automatically removed
Station compressed air storage
The boiler Triplomax It is designed for plants big dimensions where great demand reliability, full automation and high power.
Ideal for apartment buildings, greenhouses, sheds, companies, factories, resorts, gyms, airports and district heating networks.
Tanks large capacity pellet
Automation and long range
The pellet container is supplied in standard version from 160 Kg and all parts are made of painted steel. Under the lid it is positioned a grid which serves as a support base for the emptying of the pellet and as protection to prevent any objects from falling inside the tank.
At the request it comes from a 270 kg or 600 kg tank, but can also be provided to measure.
In addition, stocks of 3 to 60 tons e pneumatic conveying systems the pellets are achievable for all needs.