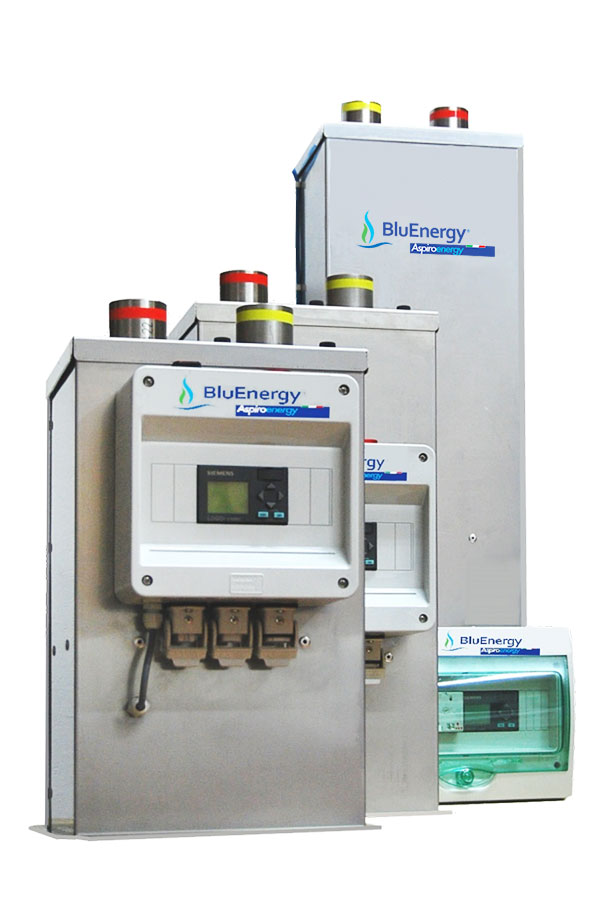 The system pneumatic transport of the pellet AspiroEnergy allows to connect the reservoir of the pellet boiler with a main silos and stored where a large quantity of pellets. The system is automatic, draws the pellets from the silos and pours it into the tank to be filled.
With three different versions, SMALL, MEDIUM e LARGE, It is perfectly suited to small domestic installation on large industrial facilities by solving the problem of the transport and supply of pellets greatly increasing the autonomy fully automated.
AspiroEnergy is an innovative system for the pellet transport even for long distances. It is built entirely in stainless steel and it is easy to apply. It Includes operation also programmed for time slots and it is ideal for systems with high gradients between the boiler and the tank.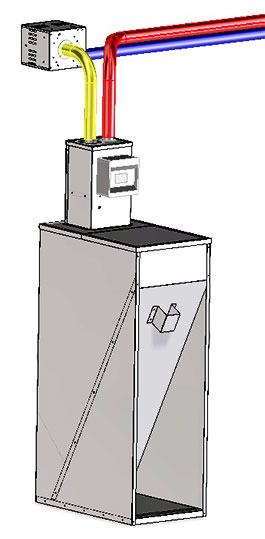 AspiroEnergy system
AspiroEnergy must be positioned above the pellet tank of the boiler. The control panel manages the load times and hourly operating schedules, manages visual and audible alarm signals.
The operation is fully automatic
The discharge valve placed below the aspirator warns the lack of pellets in the tank and activates the feeder turbine that aspires for a programmed time, at the expiration of this time the turbine stops and the material deposited nell'aspiratore, by gravity falls in the tank, by opening the drain valve.
The drain valve closes only if the tank is full of pellets and the sensor does not activate the turbine until the valve does not close completely.
TURBINE
The suction turbine creates the vacuum for the aspiration of the pellet and a compression of the air for blowing in the dosing cockpit, placed under the main tank. Having an intermediate position between the main tank and the thermal power plant it can also be positioned in other environments to eliminate noise.
SILENCER
The turbine silencer is combined when prompted for the maximum respect for the acoustic comfort. Made entirely of stainless steel and insulated with sound-absorbing insulation materials
cOCKPIT
The extraction of the pellet cockpit is placed under the main tank. It serves for the determination of the pellet in the suction phase and is controlled by the control panel of the vacuum cleaner. It consists of a horizontal extraction screw, by a door of pellet inspection / emptying and to launch a sump for AspiroEnergy.
MODULAR EXTRACTION
The modular extractors can be single or double screw and are used in large tanks combined with inclined planes in fabric, sheet or wood paneling.
AUTONOMY AND SPACE OPTIMIZED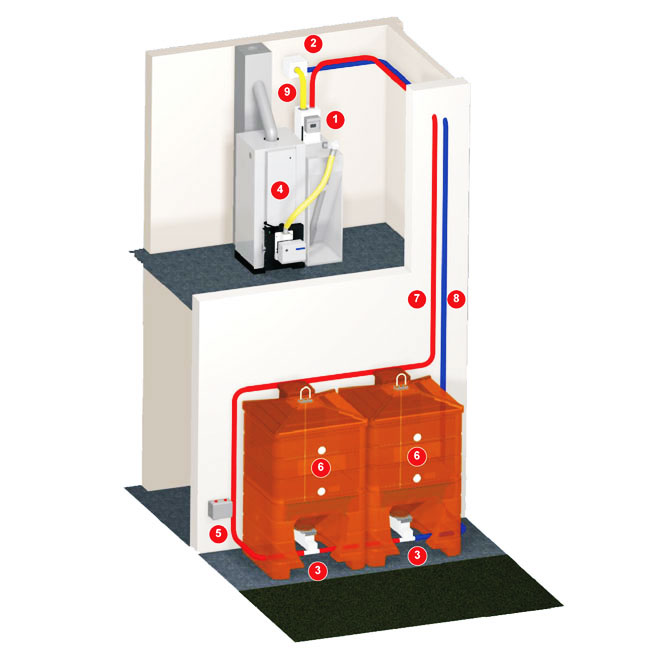 pellet transport system with gradient from external silos
Cyclone AspiroEnergy
Suction turbine
Dosing cockpit
Blucalor boiler
Multisilos (plug and play)
Storage silos pellets from external
Pellet suction line
blowing Line
Vacuum line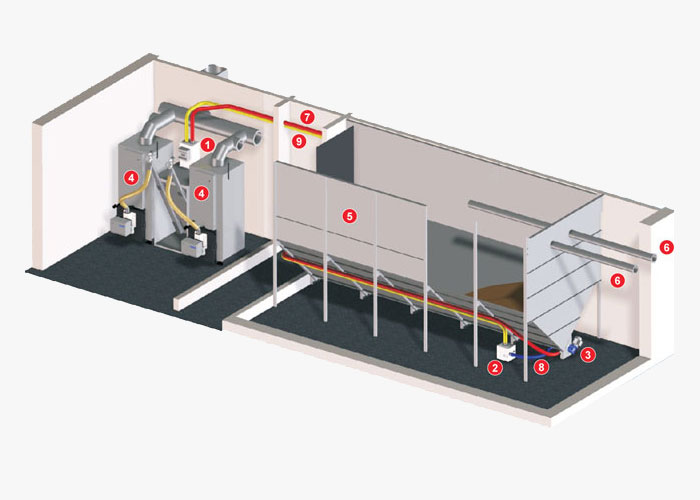 Suction tank with screw and inclined planes
Cyclone AspiroEnergy
Suction turbine
Dosing cockpit
BluCalor Boilers
Storage Silo pellet inclined planes
Attack of filling and return air
Pellet suction line
blowing Line
Vacuum line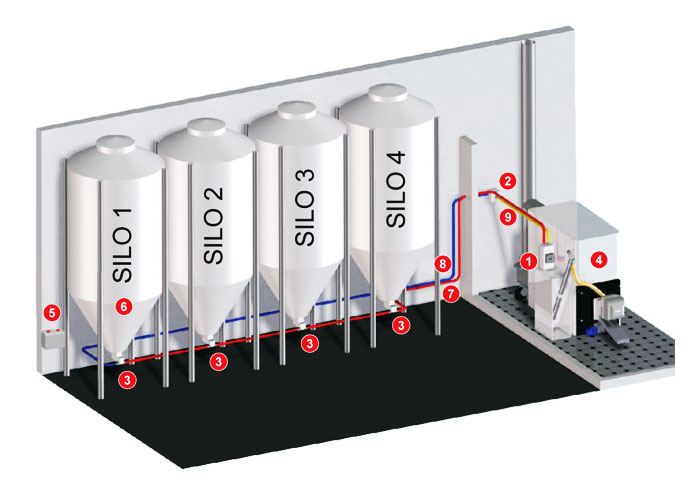 Extraction of the pellets up to 4 silos
Cyclone AspiroEnergy
Suction turbine
Dosing cockpit
Multisilos (plug and play)
monolithic pellet storage silos
Wood pellet boiler
Pellet suction line
Blowing Line
Vacuum line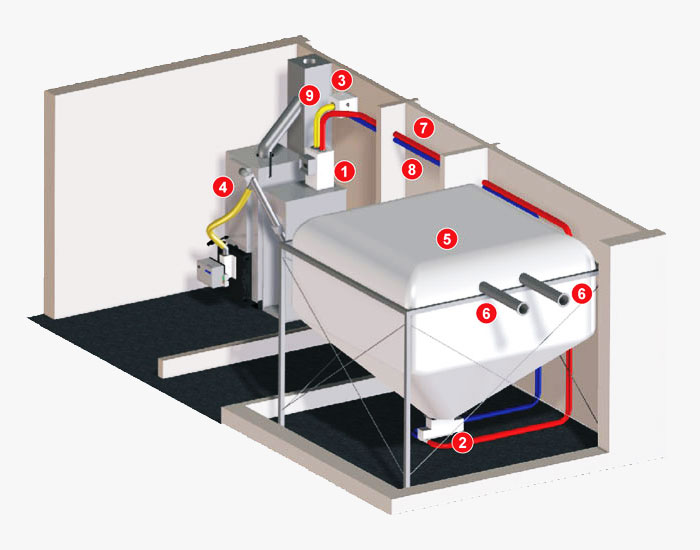 Pellet transport from FlexiTank
Cyclone AspiroEnergy
Suction turbine
Dosing cockpit
BluCalor boiler
Pellet storage silo
Attack of filling and return air
Pellet suction line
Blowing Line
Vacuum line